MUScoop Wiki - By the fans, for the fans.
Ulice Payne, Jr. #20/#21
Position: Forward


Height: 6'6"


Weight: lbs.


Birthdate: 1955


Hometown: Donora, PA


High School: Ringgold High School

High School Career
Payne was named All-State twice at Ringgold High.
In 1973, he captained the Pennsylvania All-Stars in the 1973 Pittsburgh Roundball Classic.
As a junior, Payne led his team to three straight conference titles and a third-place finish in the state tournament.
Marquette Career
Ulice averaged 6.8 points per game as a senior, during the 1977-78 season.
As a senior, Payne recorded his career high 19 points in a 97-81 win over UNLV earning him NBC-TV Player-of-the-Game honors.
He also served as a Graduate Assistant Coach for the 1979-80 season while he was enrolled in Marquette's Law School.
Professional Career
After being drafted by the Detroit Pistons in the 9th round of the 1978 NBA Draft, Payne was cut from the team. He later told On Milwaukee: "It was the first time in my life that I didn't make the cut and that was very traumatic for me." On Milwaukee Interview
Personal Notes
Payne and his wife, Carmella, live in Greenfield, Wis., with their daughter, Amber, and their son, Ulice III.
Education
Marquette University, BA, business administration, 1978

Marquette University Law School, JD, law degree, 1982

University of London, England, attended the Masters of Law program, 1986-88
Accomplishments
Payne is more notably known for his off-the-court accomplishments:
Addison-Clifton, LLC - Managing Member since 2004. Addison-Clifton, LLC provides advisory services on global trade compliance.

Milwaukee Brewers Baseball Club, Inc. - President and Chief Executive Officer from 2002 to 2003. He is the first African-American to lead a Major League Baseball franchise.

Foley & Lardner - Managing Partner of the law firm's Milwaukee office from May 2002 to September 2002. A partner from 1998 to 2002.

Director of Badger Meter, Inc.

Director of Midwest Air Group, Inc.

Director of State Financial Services Corporation

Director of Bradley Center Sports and Entertainment Corporation

Director of Children's Hospital of Wisconsin

Trustee of the Northwestern Mutual Life Insurance Company.

Director of Wisconsin Energy Corporation, Wisconsin Electric Power Company and Wisconsin Gas LLC since 2003.
Payne landed at number 14 on Sports Illustrated's list of "101 Most Influential Minorities in Sports." However, he was quick to dismiss his ethnicity when discussing his job. He told the Knight Ridder/Tribune News Service that what mattered most as CEO was not skin color but "what you do."
Quotables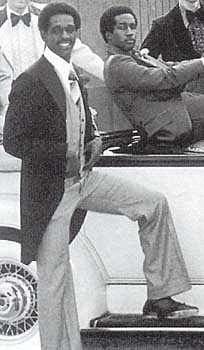 On furthering his education after being cut by the Pistons: "I wanted to defy the assumption of the black ballplayer who's stupid. I've always tried to distinguish myself by doing the little extra to get ahead."