MUScoop Wiki - By the fans, for the fans.
1921-22
Record: 15-5
Coach: Frank Murray
Captain: Wilfred (Dukes) Duford
Leading Scorer: Richard Quinn (7.0 ppg)


Once upon a time, when the Flowery Kingdom was veiled in mystery, it held a great philosopher who strode the Giant Wall under the appellation of Confucius. Stroking his queue one day, he decreed that man's one virtue was patience, but that it was utterly lacking in his helpmate, woman.
Remarks of that kind may have had birth after Mrs. "Con" had changed her better half's name to "Confusion" by bouncing a club on his head when he returned from an all-night session of one of the indoor pastimes of the slant-eyed men who favor a tussle with the Goddess of Change-trying to guess whether the number of beans under a bowl were even or odd in count.
Had Confucius been loitering around St. John's Cathedral gymnasium during the training period of Marquette's basketball squad, he would have ascertained, no doubt, that patience was one of the valuable assets possessed by Coach Frank Murray. Seemingly insurmountable obstacles were springing up on every hand. Delayed completeion of the new gymnasium made it necessary to use bush-league training quarters for men accustomed to big-time acts. Practice games had to be carried on at night and other innumerable detrimental conditions had to be tolerated.
And yet, out of that hectic scramble, Coach Murray was able to produce a team which will go down into the archives of Marquette for its record period of success. Success, not measured by overwhelming scores over opponents, nor an unbroken string of victories, but the reward which comes to the squad with a fighting spirit.
The most difficult task to fill adequately was the lack of practice and playing floors which necessitated playing the majority of games away from hom. Eighteen of the 20 games on the schedule were contested on foreign courts and of these, the "Pullman Cagers" returned 15 as victories. A holiday jaunt through the South, with a schedule of nine games was met with six wins and three defeats. On this trip, the Hilltoppers entered 15 states for a jaunt of over 3,000 miles.
The defeat at the hands of Indiana University who at that time were runners-up for the Big Ten Conference title, but was a drop in the bucket of hard luck, for the Hilltoppers were constantly menacing the Hoosiers when not in the lead over Detroit University and the Michigan Aggies on their home floors were somewhat soothing to the wound administered by Indiana; then the travelling quint earned a much-needed rest by its overwhelming defeat of Depaul of Chicago.
The Coach had a sterling trio around which to build his new caging five. Captain Duford, Dunn and Quinn were past masters of the court and with Fitzgerald at guard and Regan at center, bore the brunt of the schedule. Cardinal had been forced out following the southern trip, but with Duford holding down the pivot position, Sprafka, Morgan, Schad and McKenna showed their worth whenever injected into the game. Reinhart and the Klumb brothers, though practicing faithfully all season, did not get an opportunity to participate in games until the season was almost over, but what they did show in the final games is a prediction of a 1922-23 team, which will invade Eastern territory with pleasing results.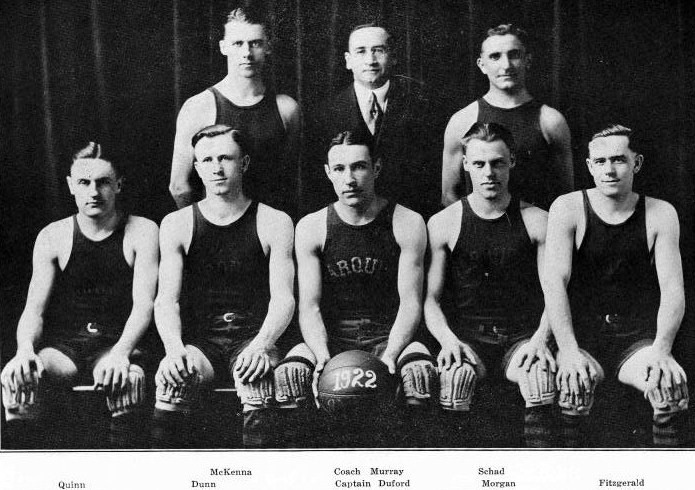 Schedule and Results