MUScoop Wiki - By the fans, for the fans.
October 14, 2007 - Marquette Madness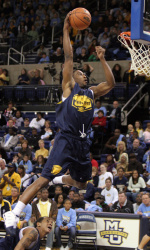 Dunk Champion: Jerel McNeal
Special Guests: Dwyane Wade, Terry Sanders, Robert Jackson, The Matadors, Simon Sez

The one-and-only Dwyane Wade made a special visit to "Marquette Madness," presented by Camping World, Saturday evening in front of a capacity crowd of over 4,000 at the Al McGuire Center.

"Marquette Madness" marks the official start of the 2007-08 Golden Eagle basketball seasons for both the men's and women's teams.

Wade made his grand entrance after a commercial for his Brand Wade line of clothing was shown over the video screen and told fans "I hope you are ready for an incredible night." The crowd jumped to its feet and welcomed back the man who led the Golden Eagles to their first Final Four appearance since the 1977 National Championship season.

Judged by a panel of ex-players including Wade, and four very lucky fanatics, junior Jerel McNeal razzle-dazzled the judges and the crowd to win the annual dunk contest. McNeal's victory came over two-time defending champion Wesley Matthews, who was unable to complete his dunk after jumping over an ATV.

In the women's scrimmage, the returnees defeated the freshmen, 28-18.

In a men against women "Simon Says" contest, a lucky student walked away the winner and with a brand new iPhone in his pocket. Steve Max, aka "Simon Sez," led the spirited contest, which came right before the men's scrimmage.

Also performing Saturday night were "The Matadors," one of the dance teams for the NBA's Chicago Bulls.

The men's scrimmage, which capped the action-packed evening, wasn't decided until sophomore Maurice Acker's game-tying 3-point attempt at the buzzer bounced off the front of the rim. Led by former Golden Eagle Terry Sanders, the "Blue" squad held on for a 59-56 win over the Wade-led "Gold" team.

Sophomore Lazar Hayward led all scorers with 18 points, one of six players to finish in double figures.