MUScoop Wiki - By the fans, for the fans.
Scott Monarch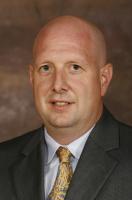 Alma Mater: Mississippi Valley State 1990
Two of the traits UNO head coach Buzz Williams was looking for when putting together his staff was head coaching experience and success.
Scott Monarch has both and then some.
Monarch spent five seasons as the head coach at Panola College.
There, Monarch was the winningest coach in school history and put together a 63 percent winning percentage.
While coaching in the junior college ranks, Monarch signed numerous standouts who signed with Division I schools and also tasted professional success.
"Scott's passion and enthusiasm is contagious," Williams said. "He has experienced just about everything you can experience in basketball, and we will certainly be able to draw on that as we face different situations."
Monarch, a native of Owensboro, Ky., was named the 2003 NJCAA Region XIV Coach of the Year after leading the Ponies to the '03 regular season conference championship.
He successfully recruited 30 players that went on to sign Division I scholarships and helped guide a program that finished in the top five in the nation in scoring in all of his six seasons.
Monarch, who received his master's degree from Baylor in 1991 after earning his undergraduate degree from Mississippi Valley State in 1986, has also served as an associate head coach at Tennessee State (1999-2000) and Kentucky Wesleyan ('96-98).
At Kentucky Wesleyan, Monarch was part of a program that reached the 1998 NCAA Division II national championship game. He also recruited and helped develop four players who would later be first-team All-Americans. Two of those standouts became National Players of the Year.
This will be Monarch's fourth stint with a Division I school. Along with new Orleans and Tennessee State, Monarch served as an assistant coach at Grambling State in 1998-99.
He started his career at Navarro College in 1993 and coached there for three seasons. He then went on to spend three seasons at McLennan Community College.
Monarch is married to the former Stephanie Peters of Bogalusa, La.