MUScoop Wiki - By the fans, for the fans.
Abel Joseph #20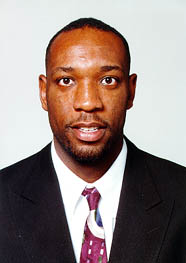 Position: Forward
Height: 6'9"
Weight: 240
Born: January 4, 1974
Hometown: Montreal, Canada
High School: College Francais/Dawson College

Prep Career
Abel averaged 27 points and 12 rebounds during 1991-92 season, leading College Francais to a 25-5 record. He averaged 15 points, eight rebounds and seven blocks for Dawson College in 1992-93. He also shot a league-best 60.8% from the field and led Dawson to a 24-5 record, including a 14-2 slate in the AAA Basketball League, the elite basketball conference in Montreal.
Dawson advanced to the provincial championship game and Joseph earned all-league honors in 1992-93 and was named the team's most valuable player as well as the most improved player. He was coached by Olga Hrycak and was a member of the All-Quebec team that won the 1993 Canada game.
Marquette Career
Abel was named team captain for the 1997-98 season.
1996-97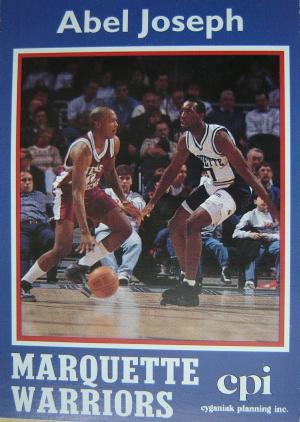 Has come off the bench in 29 games this season … Set season and career highs with eight points against DePaul (Jan. 9) … Grabbed season and career best six rebounds versus DePaul (Jan. 26) and Southern Miss (Jan. 4) … Tied his career high with six rebounds versus Cincinnati (Feb. 27) … Registered six points on 3-3 shooting and four rebounds against UNC Charlotte (March 8) … His points total was his best output in 17 contests.
1995-96
1994-95
Came off the bench in 30 games … Grabbed two rebounds in six minutes in NIT win over St. Bonaventure (3/20) … Tied a career high with five rebounds at Dayton (1/20) … Scored a career-high seven points against Cincinnati (1/12) … Had four rebounds against Wisconsin (12/31) … Registered a career high with five rebounds against Illinois-Chicago (12/20) … Had four points versus Northwestern (12/3) … Scored four points and grabbed three rebounds against UW-Milwaukee (12/2).
1993-94
Coach Kevin O'Neill on Joseph- "Abel is an excellent athlete, who may require some time to get used to basketball at this level. His best basketball is in front of him. He's very coachable and is a very hard worker, who is going to be a good player at Marquette."

A member of the Great Midwest Conference All-Academic Team … Recipient of Marquette's Multi-Cultural Center Minority Student Leadership Award … Saw playing time in eight games this season … His longest stint was five minutes against South Florida on Jan. 31 … Scored six points on 3-6 shooting from the field in that game … Pulled down a season-best two rebounds versus South Florida and Louisiana Tech (12/21).
All-Time Senior Season Rankings
Accolades
1993-94 Great Midwest Conference All-Academic Team

1994 Recipient of Marquette's Multi-Cultural Center Minority Student Leadership Award
Personal:
Son of Eugene Joseph and Marie Rose Leonce, majored in psychology
Post-MU
In 2007, Abel Joseph was named the General Manager of The ABA Montreal Royal professional basketball team. http://oursportscentral.com/services/releases/?id=3481807
Mr. Joseph has been involved with basketball for almost 20 years in the Montreal basketball community, and played at Marquette University as well as in Europe with Vevey and Carouge. "I am very excited about this opportunity. The ABA is becoming very big and important in Canada with so many teams and our goal is to make the Royal the very best among them - both on and off the court. The fans of Montreal really like the ABA style of play. Since my playing days are pretty much over, this ABA mania is a good place to start giving back to the sport I Iove," said Joseph.