MUScoop Wiki - By the fans, for the fans.
Mark Anglavar #25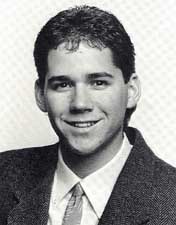 Position: Guard
Height: 6'3"
Weight: 180 lbs.
Birthdate: July 9, 1969
Hometown: La Salle, IL
High School: Peru Township H.S.

High School Career
Anglavar was selected as a member of the Chicago Tribune-Illinois High School Association's (ISHA) All-State Third Team in 1987.
HoopScoop placed him on the twentieth team of a final list of 1987 recruits, Top 100 Seniors. Anglavar selected Marquette over Xavier and Evansville.
Marquette Career
1987-88
Mark averaged 7.7 points as a freshman and set a Marquette record for three pointers made in a single game, when he hit on six of seven shots against Air Force, scoring a career-high 21 points.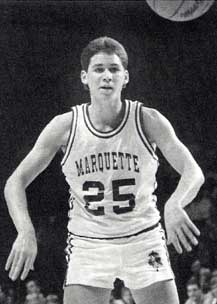 1989-90
Mark set Marquette's single game record for three-pointers with a 9 of 16 outing against Butler on Feb. 1, 1990; his single game record of 9 three-pointers made stood for more than 27 years.
1990-91
Mark was named tri-Captain of the team and shot 51.9% from three point range that year.
Mark also worked as a graduate assistant coach for Kevin O'Neill's 1991-92 squad.
All-Time Career Leader Rankings
5th, Three Point Field Goals Made (216)

8th, Three Point Field Goals Attempted (501)

2nd, Three Point Field Goal Percentage (min. 200 att.) (43.1%)
All-Time Single Game Rankings
1st, Three Point Field Goal Attempts, 16 vs. Butler (February 1, 1990)

2nd, Three Point Field Goals Made, 9 vs. Butler (February 1, 1990) (18th in NCAA History)
All-Time Single Season Rankings
10th, Three Point Field Goals Attempted (185)

10th, Three Point Field Goal Percentage (min. 100 att.) (42.6%)
All-Time Senior Season Rankings
10th, Three Point Field Goals Made (55)

2nd, Three Point Field Goal Percentage (min. 40 att.) (47.4%)

8th, Assists (143)
All-Time Junior Season Rankings
3rd (tie), Three Point Field Goals Made (65)

3rd, Three Point Field Goals Attempted (185)
All-Time Sophomore Season Rankings
7th, Three Point Field Goals Made (53)

1st, Three Point Field Goal Percentage (min. 50 att.) (53.5%) (22nd in NCAA History)
All-Time Freshman Season Rankings
6th, Three Point Field Goals Made (43)

7th, Three Point Field Goals Attempted (101)

3rd (tie), Three Point Field Goal Percentage (min. 50 att.) (42.6%)

7th, Steals (37)

8th, Assists (79)