MUScoop Wiki - By the fans, for the fans.
Jim McIlvaine
Years: 1990-1994
Number: 34
Position: Center
Height: 7'1"
Weight: 240
Born: July 30, 1972
Hometown: Racine, WI
High School: St. Catherine's H.S.
AAU Team: Vic Tanny Warriors




St. Catherine's High School
McIlvaine dominated at Racine St. Catherine's High School, averaging 21.4 points, 11 rebounds and 6 blocked shots as a junior. He shot 69.6% from the floor and 74.4% from the foul line as a junior for Coach Bob Letsch. As a senior, he averaged 22.9 points, 11.1 rebounds and 8.1 blocked shots. He shot an amazing 71.8% from the floor and 77% from the foul line as a senior and scored 929 points in his career (549 as a senior). His career highs were 31 points, 24 rebounds and 21 blocked shots.

Accolades
1989 All-Metro Conference

1989 All-Racine County

1990 All-Metro Conference

1990 All-Racine County

1990 Racine County Player of the Year

1990 Wisconsin AP Player of the Year
Vic Tanny Warriors
Jim also played on the Vic Tanny Warriors AAU team, coached by Ric Cobb, with future MU teammate, Damon Key. The Vic Tanny Warriors were the 19 and under National Runnerup in 1989 and placed fifth in the national tournament in 1990. They also won the Wisconin AAU State Tournament, as well as the Badger State Games Gold Medal in 1990. McIlvaine and Key were both named to the All-Star team at the prestigious Five-Star Basketball Camp.
Marquette University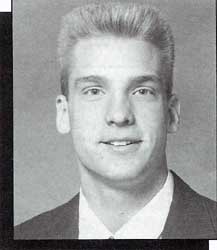 1990-91
Coach Kevin O'Neill on McIlvaine- "He has the chance to down the line, be a great player. Jim is a very good shot blocker and rebounder with good hands. He runs the floor very well. I think he will have a better college career than a lot of people think and he will do a great job for us."
Statistics
| season | GP | Min | Avg | FG-A | FG% | 3FG-A | 3P% | FT-A | FT% | Reb | Avg | Ast | Stl | Blk | Avg | TO | PF | Pts | Avg |
| --- | --- | --- | --- | --- | --- | --- | --- | --- | --- | --- | --- | --- | --- | --- | --- | --- | --- | --- | --- |
| 1990-91 | 28 | 540 | 19.3 | 84-145 | .579 | 0-0 | | 55-92 | .598 | 132 | 4.7 | 14 | 7 | 92 | 3.28 | 37 | 58 | 223 | 8.0 |
| 1991-92 | 29 | 701 | 24.2 | 102-187 | .545 | 0-0 | | 95-126 | .754 | 134 | 4.6 | 16 | 7 | 86 | 2.96 | 50 | 75 | 299 | 10.3 |
| 1992-93 | 28 | 532 | 19.0 | 111-192 | .578 | 0-0 | | 85-119 | .714 | 134 | 4.8 | 21 | 6 | 79 | 2.72 | 49 | 74 | 307 | 11.0 |
| 1993-94 | 33 | 946 | 28.7 | 170-322 | .528 | 0-0 | | 109-164 | .665 | 273 | 8.3 | 43 | 9 | 142 | 4.30 | 51 | 88 | 449 | 13.6 |
| Totals | 118 | 2719 | 23.0 | 467-846 | .552 | 0-0 | | 344-501 | .687 | 673 | 5.7 | 94 | 29 | 399 | 3.38 | 187 | 295 | 1278 | 10.8 |
All-Time Marquette Rankings
26th, Points (1,278)

15th, Rebounds (673)

1st, Blocked Shots (399) (18th in NCAA History)
All-Time Career Leader Rankings
1st, Field Goal Percentage (min. 500 att.) (55.2%)
All-Time Single Game Rankings
1st, 13 Blocked Shots vs. Northeastern Illinois (December 9, 1992) (Tied for 5th in NCAA History)

2nd, 8 Blocked Shots (five times, tied with two others)

2nd (tie), 15 Free Throws Made vs. DePaul (February 27, 1994)
All-Time Single Season Rankings
6th, Field Goal Percentage (min. 250 att.)

1st, Blocked Shots (142) (22nd in NCAA History)

2nd, Blocked Shots (92)

3rd, Blocked Shots (86)

5th, Blocked Shots (79)
All-Time Senior Season Rankings
8th, Field Goal Percentage (min. 240 att.) (52.8%)

4th, Rebounds (273)

1st, Blocked Shots (142)
All-Time Junior Season Rankings
All-Time Sophomore Season Rankings
9th, Free Throw Percentage (min. 100 att.) (75.4%)

1st, Blocked Shots (86)
All-Time Freshman Season Rankings
1st, Blocked Shots (92)

6th, Rebounding Average (4.7)

9th, Rebounds (132)

9th (tied), Free Throws Made (55)

5th, Free Throws Attempted (92)
Accolades
1993-94 Great Midwest Conference Player of the Year

1993-94 All-Great Midwest Conference First Team

1994 Henry Iba Corinthian Award (National Defensive Player of the Year)

Member of the Bronze Medal East Team in the 1991 Olympic Festival

Member of the 1993 Footlocker NIT All-Star Team

1993-94 AP Honorable Mention All-American
Professional Career
McIlvaine spent seven seasons in the National Basketball Association with the Washington Bullets, Seattle SuperSonics and New Jersey Nets. The 7-foot-1 shot-blocking specialist never made a major impact in the NBA, and is perhaps best remembered for the fall-out that occurred after he signed with the Seattle SuperSonics in 1996.
He was drafted with the fifth pick in the second round of the 1994 draft by the Washington Bullets (now Washington Wizards). He spent two years for the team, primarily in a backup role to Gheorghe Muresan. In limited playing time, McIlvaine exhibited tremendous defensive potential, although he was never given enough playing time to really prove himself in a full-time capacity (he averaged fewer than 15 minutes a game during his "breakout" second year). The young and inexperienced Bullets team displayed tremendous up-side in the 1995-96 NBA season, McIlvaine and young star Juwan Howard's second year in the league. However, when Howard signed with the Miami Heat (later voided by the NBA) and Brent Price left for the Houston Rockets, McIlvaine decided to explore free agency.
Huge Contract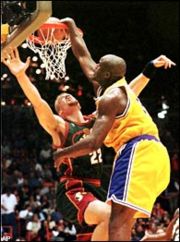 In 1996, a strong Sonics team, fresh off an NBA Finals appearance, was looking for something that would put them over the hump and enable them to defeat the Chicago Bulls team led by Michael Jordan. The team had one of the league's most respected duos in All-Stars Gary Payton and Shawn Kemp, and a solid group of scorers in the middle of the lineup with shooting guard Hersey Hawkins and small forward Detlef Schrempf.
However, the center position was lacking in depth, and currently being filled by 6-foot-9 Sam "Big Smooth" Perkins, who was too small for his position and was falling from his physical peak (Perkins averaged only 26.5 minutes per game in 1996). The team's young backup center, Ervin Johnson, had not yet proven that he could play competitively at the professional level. Hoping to fill the void, Sonics management offered a seven-year, $33.6 million free-agent contract to McIlvaine, who was at the time an unproven second-year player coming off a season in which he averaged only 2.3 points, 2.9 rebounds and two blocks per game for the Washington Bullets.
Seattle fans were upset, and so was superstar forward Kemp, who had been asking for a contract increase after leading the team to a franchise-record 64 wins and its best postseason performance in 17 years. The decision by Seattle's front office to deny Kemp a salary increase and to award a largely uncoveted, unproven center with such a large-scale offer is widely thought to have hurt the team's chemistry [1]. Following the 1997 season in which McIlvaine averaged 3.8 points and 2.00 blocks per game, Seattle would be the authors of a league-altering three-team trade that effectively sent Kemp to the Cleveland Cavaliers in exchange for the Milwaukee Bucks' Vin Baker, with the Cavaliers' Terrell Brandon and Tyrone Hill going to Milwaukee.
The blockbuster deal is often viewed as a disastrous one, taking the wind out of four players who were just entering the prime of their career (they were all between 25 and 29 at the time of the trade). Evidence seems to support this claim. Prior to the trade, the players had a combined 11 All-Star appearances, and all but Hill had active, multi-year streaks. Following the trade, however, Brandon and Hill never appeared in another All-Star game, and after Kemp and Baker's All-Star appearances in the 1997-98 season immediately following the trade, they too were never again chosen to represent their respective conferences — with both Kemp and Baker undergoing now-legendary declines.
Although McIlvaine could not be blamed for pursuing a contract that fit his interests, his detractors consistently point out that his signing led to Kemp's dissatisfaction and eventual departure from Seattle. Over the next four years, despite having one of the league's best point guards (Payton was twice selected to the All-NBA First Team over the next three seasons), the Sonics never made it past the second round of the playoffs.
Final NBA Years

His first season in Seattle ended up being a career year for McIlvaine. He registered career highs in games (82), minutes (1,477), points per game (3.8), rebounds per game (4.0), assists (23) and steals (39), while also averaging two blocks per game. However, his performance was widely viewed as disappointing in light of his $4.8 million per year contract, and following the Kemp trade, McIlvaine was viewed as a bust and used as a scapegoat for the team's ills.
His second season in Seattle saw him decline in every major statistical category, although he still posted numbers close to his career bests in most areas. However, the Seattle team was deteriorating, and McIlvaine was dealt to New Jersey in 1998, primarily to open up salary cap room following the once-promising team's dismantling.
McIlvaine would round out his career with the Nets, playing three injury-riddled seasons with the team. In 1999-2000, McIlvaine played 66 games in his best season since leaving Seattle, but injury problems and declining numbers continued to hamper him until his contract was bought out by the Nets after the 2000-01 NBA season.
McIlvaine retired with an average of 2.7 points, 3.1 rebounds, and 1.71 blocks in 401 career games. Although his career spanned more years than most second round draft picks, he is widely remembered as a disappointment because of the superstar contract he was offered by Seattle management. In his seven-year NBA career, McIlvaine never scored more than 12 points in a game and never made more than three field goals. However, to put his contributions in perspective, he was amongst league leaders in blocks during his career and did grab 16 rebounds once and once blocked nine shots in a game against Chicago.
Broadcasting Career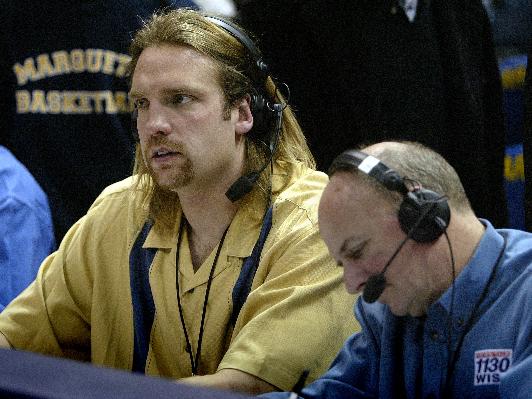 McIlvaine remains active with the media and various organizations, offering his opinion on current issues in the world of sports. Most recently, he has been working as a color analyst on the Marquette University team's radio broadcasts (2005-Present).

Trivia
McIlvaine loves to ski on both snow and water, something he didn't dare do during his NBA career for fear of injury. He is a movie nut who favors off-beat comedies. He filmed a small role in the Jack Black comedy Shallow Hal, but the scene was not included in the final cut. An avid car enthusiast, he works as a freelance photographer and writer for niche car magazines with names such as "Popular Hotrodding" and "GM High-Tech Performance." A drummer, he on occasion can be seen playing snare drum with the Marquette Pep Band before basketball games.

His nickname is "Mac" and he claims his favorite basketball player is David Robinson and his favorite team is the San Antonio Spurs. His ideal vacation spot is Hot Springs, Arkansas and he enjoys sloppy joes and pizza.

McIlvaine is currently the President of Friends of Camp Anokijig, an organization dedicated to preserving one of Wisconsin's longest running summer camps for kids. The camp has been in continuous operation since 1926, and thanks to McIlvaine's leadership was spared after a commercial redevelopment effort for the land was strongly considered.
Quotes
About getting the big contract: "It blows me away, I've been so fortunate. Charles Barkley is the guy who comes to mind when I think about what's happened to me. He said he was going to fire his mom, she was off the payroll, because he was born too early. I just really got lucky."
About all the negative response to the contract: "A lot of people said negative things about my contract, but I don't know if it was jealousy, I think it was people looking at the numbers and saying, 'Look at how much this guy is getting paid and look at the numbers he's putting up.' I can totally understand that. But at the same time, if somebody is offering you a boatload of money, it's tough to turn down."
About playing basketball after retirement: "I'm not a gym rat. I never was. I don't feel safe playing with anybody but Division I players or higher. I can't go play in a rec league. That's dangerous. Cutting my legs out, that's a smart play for those guys. Or, I might turn around to shoot and somebody's face is right where my elbow hits and they get upset and want to fight with me. It's not worth it."
About appearing in Shallow Hal: "We're in the credits, so I guess you can say we were in the movie."
External Links
Pictures