MUScoop Wiki - By the fans, for the fans.
1984-85 Season
Season review
Marquette featured senior co-captains Mandy Johnson and Robert Hall as starting guards, junior swingman Kerry Trotter, and sophomore Tom Copa at center.
Among the new faces were junior college transfers Michael Davis and Benny Moore, along with freshmen Michael Sims, Tony Reeder and Pat Foley. However the most attention was focused on the junior transfer from DePaul, Walter Downing. The Warriors even had a new mascot, Blueteaux.
Some of the faces missing were 1983-84 scoring leader, Dwayne Johnson, who sat the year out because of academic problems, and Vic Lazzaretti and Lloyd Moore both of whom transfered. To compound matters, Coach Rick Majerus kicked forward Terry Reason off the team. Days later guard Richard McCormick quit the team claiming that he wasn't seeing enough playing time.
Despite early season problems, Marquette finished with an 20-11 record and played as a cohesive unit down the road when it really counted. The Warriors were consistently ranked high in the nation in field goal percentage, defense and scoring defense – all of which helped them earn an NIT bid. After beating Bradley at home and Cincinnati on the road, the Warriors went to Bloomington, Indiana to face Bobby Knight's Hoosiers.
Marquette tied school records for an NIT game, taking 74 shots and hitting 37 of them. Unfortunately, the Hoosiers set a few records of their own. Indiana's Stew Robinson dished out 14 of Indiana's 24 assists (both records for a MU opponent in the NIT) and the Hoosiers tied another MU opponent record with 32 field goals. Bobby Knight's crew also went 30 of 45 from the foul line (both high marks for a MU NIT opponent) and knocked off the Warriors 94-82 in a tough, double-overtime contest. Indiana wound up losing the NIT title to a UCLA squad led by a skinny kid named Reggie Miller.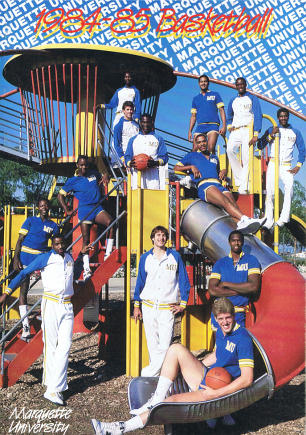 Schedule and Result
Texas A&M set an opponent record for free throws attempted (47) in their January 9th victory over Marquette.

Marquette may have been ranked high in the nation in defense, but their game against DePaul on March 9th did not help those numbers. The Blue Demons only took 35 shots from the floor, but that was all they needed, as they knocked down 26 of them, setting an opponent record for field goal percentage (74.3%), defeating Marquette.