MUScoop Wiki - By the fans, for the fans.
Marquette defeats Idaho State in OT with shaky offense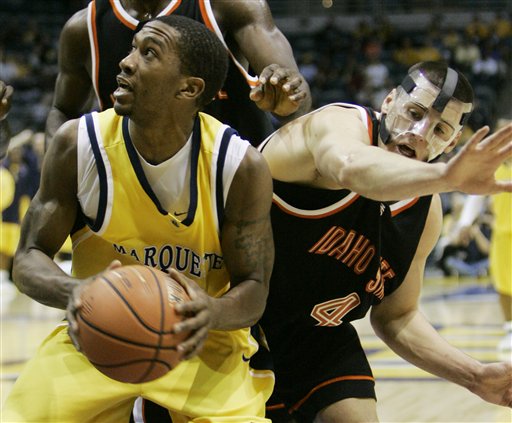 MILWAUKEE (AP) – Marquette's offensive performance was just that – offensive. The Golden Eagles (No. 17 ESPN/USA Today, No. 16 AP) suffered through a horrendous shooting night, but their defensive effort helped them avoid an upset at the hands of Idaho State and escape with a 59-56 overtime victory in the first round of the CBE Classic on Monday. Dominic James scored 17 points and Jerel McNeal added 13 for Marquette, which went 19-of-65 from the field (29.2 percent) and 16-of-31 from the free throw line. But the Golden Eagles did score 24 points off 25 turnovers. "It's a win," McNeal said. "That's the only thing that really matters. It was a rough night offensively. "You find out the character of your team in a game like this." Marquette (2-0) plays Detroit, which beat Maine 57-50, in a second-round game on Tuesday. "This was a night where we weren't playing very well and Idaho State was," Marquette coach Tom Crean said. "We're not shooting the ball well right now." Akbar Abdul-Ahad had 17 points for the Bengals (0-1), who outscored Marquette 12-4 at the start of the second half to take a 40-32 lead. David Schroeder was key in the Bengals' run, scoring eight points, including two 3-pointers. After a timeout, the Golden Eagles responded with an 8-0 run to tie the game. Idaho State ended its drought with five straight points. Marquette tied the game at 53 with 3 seconds remaining in regulation on a free throw from Dan Fitzgerald. Idaho State's Logan Kinghorn then missed a runner from about 18 feet at the buzzer. James hit a 3-pointer to give Marquette a 56-53 lead, but the Golden Eagles missed their next 10 shots. Abdul-Ahad hit a 3-pointer to tie the game at 56 with less than a minute left. Ousmane Barro of Marquette then hit two free throws with 29 seconds left. Schroeder was fouled with 6.4 seconds left, but he missed the front end of the 1-and-1. James added a final free throw, and Idaho State's shot from beyond midcourt was deflected by McNeal as time expired. "That's a tough one," said Joe O'Brien, who was coaching his first game at Idaho State. "I appreciate the effort the kids gave tonight." McNeal led Marquette with six steals, and Crean said that type of effort is needed when the offense has an off game. "You have to have your defensive mind-set and a rebounding mind-set," said Crean, whose team held a 41-33 rebounding advantage. "That's what won the game for us." The Bengals were bidding for their first win against a ranked team since March 17, 1977, when they beat UCLA 76-75 in the NCAA tournament, ending the Bruins' run of 10 consecutive Final Four appearances.
Box Score
| Final | 1 | 2 | OT | T |
| --- | --- | --- | --- | --- |
| Idaho State | 28 | 25 | 3 | 56 |
| Marquette | 28 | 25 | 6 | 59 |
Idaho State
Player
Pos
Min
FG-FGA
FT-FTA
3P-3PA
OR-TR
Ast
Blk
Stl
TO
PF
Pts
M Stucki
F
23
0-2
0-0
0-1
0-1
2
0
1
3
4
0
J Ofoegbu
C
25
4-6
0-0
0-0
1-3
1
2
0
2
5
8
A Abdul-Ahad
G
45
6-11
2-2
3-9
1-7
5
0
4
7
3
17
L Kinghorn
G
27
3-6
0-0
2-2
1-7
1
1
0
0
4
8
D Schroeder
G
38
4-10
0-1
3-7
0-2
0
0
1
3
3
11
A Morgan
25
1-5
0-0
0-1
1-4
1
0
1
3
1
2
A Kilpatrick
12
2-4
0-0
2-3
0-0
0
1
0
1
2
6
C O'Brien
10
1-1
0-2
0-0
0-0
1
0
0
2
1
2
N Rhodes
20
1-2
0-0
0-0
3-8
1
0
0
3
2
2
Totals
225
22-47
(.468)
2-5
(.400)
10-23
(.435)
7-33
12
4
7
25
25
56
Marquette
Player
Pos
Min
FG-FGA
FT-FTA
3P-3PA
OR-TR
Ast
Blk
Stl
TO
PF
Pts
O Barro
F
31
1-5
2-2
0-0
7-10
0
1
0
1
3
4
J Lott
F
27
3-6
3-4
0-0
2-5
0
0
1
1
2
9
D James
G
38
5-14
4-9
3-8
1-5
3
0
4
3
1
17
J McNeal
G
32
5-16
2-4
1-7
4-4
3
0
6
5
4
13
W Matthews
G
36
3-13
1-4
0-4
2-5
1
0
1
1
1
7
D Fitzgerald
25
1-5
3-6
1-5
3-5
2
0
0
2
2
6
D Cubillan
18
0-1
0-0
0-1
1-2
1
0
0
0
1
0
D Burke
2
0-1
0-0
0-0
1-1
0
0
0
0
0
0
L Blackledge
8
0-1
1-2
0-0
0-1
0
1
0
0
0
1
L Hayward
7
1-3
0-0
0-0
0-0
0
0
0
0
0
2
M Kinsella
1
0-0
0-0
0-0
0-1
0
0
0
0
0
0
Totals
225
19-65
(.292)
16-31
(.516)
5-25
(.200)
22-41
10
2
12
13
14
59
Officials: Mike Stuart, Sean Hull, Jeff Nichols
Attendance: 12,334