MUScoop Wiki - By the fans, for the fans.
Marquette 83, Northwestern State 67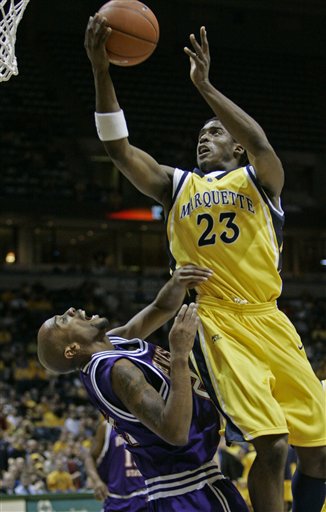 MILWAUKEE (AP) – Ousmane Barro had a career-high 21 points and tied a personal best with 13 rebounds to help No. 8 Marquette beat Northwestern State 83-67 in the Blue & Gold Classic on Friday night. Dominic James scored 13 of his 19 points in the second half and Wes Matthews finished with 14 points for Marquette (8-0), which will play North Dakota State in the championship game of the four-team tournament on Saturday. Barro also blocked three shots. Colby Bargeman led Northwestern State (4-3) with 17 points and Trey Gilder added 13. The Golden Eagles opened the second half with a 14-0 run. Jerel McNeal had six of his 13 points during the surge, including a layup that gave Marquette a 50-32 lead with 16:46 to go. The Demons pulled within eight three times in the second half, the last coming on a Bargeman basket that made it 64-56. James responded with a three-point play with 6 minutes left. Northwestern State never challenged after that. Marquette scored 17 of the first 22 points but Luke Rogers scored six straight points to ignite an 18-5 run for Northwestern State. Gilder connected on a 3-pointer to put the Demons ahead 23-22. Gilder also banked in a shot with 4 seconds left in the first half, cutting Marquette's lead to 36-32 at halftime. Marquette is 8-0 for the third time in coach Tom Crean's tenure. Their best start under Crean was 10-0 in 2001-02. The Golden Eagles were upset 71-64 by Winthrop in last year's championship game, snapping Marquette's 13-0 run in Blue & Gold Classic play under Crean. Marquette allowed 22 offensive rebounds and lost for the first time in the tournament since a 67-51 loss to Tulsa on Dec. 5, 1998.
Box Score
| Final | 1 | 2 | T |
| --- | --- | --- | --- |
| Northwestern State | 32 | 35 | 67 |
| Marquette | 36 | 47 | 83 |
Northwestern State
Player
Pos
Min
FG-FGA
FT-FTA
3P-3PA
OR-TR
Ast
Blk
Stl
TO
PF
Pts
J Spencer
F
24
3-10
0-0
0-0
1-2
1
3
0
0
3
6
G Thomas
F
8
0-2
0-0
0-1
0-0
0
0
0
2
2
0
L Rogers
G
31
3-10
2-2
1-2
1-7
3
0
2
4
1
9
K Jones
G
27
2-9
2-5
0-1
0-2
6
0
2
3
2
6
C Bargeman
G
31
7-13
1-2
2-4
3-6
2
0
2
1
1
17
D Bell
5
0-0
0-0
0-0
0-0
0
0
0
2
2
0
T Gilder
24
3-5
6-6
1-2
1-1
3
0
1
1
3
13
J Stevenson
2
0-0
0-0
0-0
0-0
0
0
0
0
1
0
M McConathy
4
0-0
2-4
0-0
0-0
1
0
0
1
0
2
E Woods
12
3-6
0-0
2-4
1-1
0
0
0
2
1
8
K Hancock
5
0-1
0-0
0-1
0-1
0
0
0
0
1
0
D Jones
1
0-0
2-2
0-0
0-1
0
0
1
0
0
2
J Moody
16
2-2
0-0
0-0
1-3
0
1
0
2
1
4
M Ross
9
0-1
0-0
0-0
0-0
0
0
0
1
2
0
K Porterie
1
0-0
0-0
0-0
0-0
0
0
0
0
0
0
Totals
200
23-59
(.390)
15-21
(.714)
6-15
(.400)
9-26
16
4
8
19
20
67
Marquette
Player
Pos
Min
FG-FGA
FT-FTA
3P-3PA
OR-TR
Ast
Blk
Stl
TO
PF
Pts
O Barro
F
34
10-13
1-3
0-0
5-13
1
3
1
5
2
21
J Lott
F
13
1-3
0-0
0-0
0-1
0
0
0
2
3
2
D James
G
31
7-12
5-7
0-3
1-5
6
0
2
1
2
19
J McNeal
G
25
5-15
2-2
1-2
3-5
2
0
3
4
4
13
W Matthews
G
32
5-11
4-5
0-3
1-8
5
0
2
4
0
14
D Fitzgerald
19
1-2
1-2
1-2
2-6
1
0
0
3
3
4
D Cubillan
22
1-5
0-0
1-4
1-2
4
0
3
1
2
3
D Burke
6
0-0
0-0
0-0
1-1
0
0
0
2
1
0
L Blackledge
7
1-4
1-2
0-0
3-5
1
1
1
1
1
3
L Hayward
11
2-3
0-0
0-1
0-1
0
0
0
0
3
4
Totals
200
33-68
(.485)
14-21
(.667)
3-15
(.200)
21-53
20
4
12
23
21
83
Officials: Reggie Greenwood, Gary Prager, Pat Driscoll
Attendance: 13,019