MUScoop Wiki - By the fans, for the fans.
Marquette rolls over Detroit, advances in CBE Classic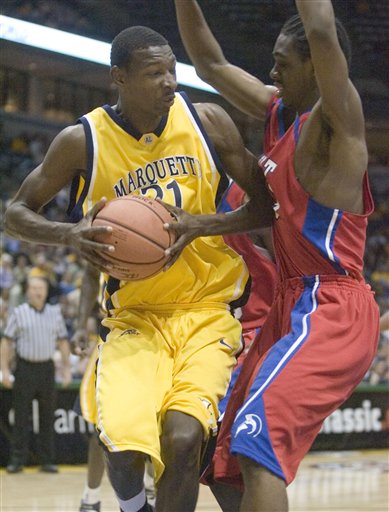 MILWAUKEE (AP) – Wesley Matthews knew that Marquette's shooting woes couldn't last long. Matthews scored 15 points to help the Golden Eagles (No. 17 ESPN/USA Today; No. 16 AP) beat Detroit 87-45 in the quarterfinals of the CBE Classic on Tuesday night – one night after shooting 29.2 percent in an overtime victory over Idaho State. "We knew it was more of a mental thing," Matthews said. "It was a poor shooting performance. We had more confidence in ourselves shooting the ball tonight. We were still getting the same looks. We were just knocking them down." Dominic James led Marquette (3-0) with 20 points, and freshman Lazar Hayward added 14 points off the bench, as the Golden Eagles advanced to play Texas Tech or Arkansas-Little Rock in the CBE Classic semifinals next Monday in Kansas City. James had five assists and four of Marquette's 17 steals. Marquette scored 34 points off turnovers – and tallied 27 fast-break points to Detroit's none. The Titans (1-1) had 27 turnovers en route to their worst defeat since 1980. Detroit has lost games by 43 points three times, the last time a 98-55 loss to Iowa on Dec. 1, 1980. "A lot of things we get in transition are created from our defense," James said. "We did a great job getting into the open floor. It opened it up for us offensively." Ryvon Covile led Detroit with 15 points and 12 rebounds. Detroit never led and trailed 46-22 at halftime, as Marquette raced to an early 18-8 lead and finished the first half on a 10-0 run. The Golden Eagles shot 59.3 percent in the first half and 55.2 percent for the game, including 10-of-19 from three-point range. Detroit got no closer than 19 points in the second half. "That's a sign of maturity," Matthews said. "We're a young team, but we're maturing pretty quickly. We were working on that in practice, when a team is down you keep pouring it on. You don't give them a chance to get back into it." Marquette dominated from the start after struggling to its first two victories. Like Idaho State, Detroit opened with a zone defense. This time, Marquette solved it by hitting four 3-pointers in the first 4½ minutes and six in the first half. Matthews made three of them as he scored 11 early points one night after making just 3-of-13 field goals – 0-of-4 from 3-point range – and scoring seven points in the Idaho State win. Backup point guard David Cubillan had 10 points off the bench for Marquette, and Jerrel McNeal added seven assists, three steals and two blocked shots. Against Idaho State, Marquette made just 5-of-25 from 3-point range and had to come back from an eight-point second-half deficit to beat the Bengals and reach the CBE regional final. Marquette made 2-of-10 3-pointers in its 77-66 victory over Division II Hillsdale College. "The worst thing we could have done last night, this morning, this afternoon, was over do missing shots, over do missing free throws," Marquette coach Tom Crean said. "We needed to clean up a couple things in our offense. "The game is so fleeting. We say to them all the time, I said it last night, 'Your jump shot may not come with you. Your layups may not come with you. Your free throws may not come with you.' But your defensive mentality and your rebounding mindset have got to come with you." Hayward, a freshman who just gained his eligibility earlier this month, left the game with about 9 minutes remaining, limping off the court with an apparent left ankle injury. He returned later. Detroit also had to come from behind to beat Maine, 57-50, Monday night to reach the regional final. Brandon Cotton had 24 points against Maine. Marquette held him to 11 points on seven shots, and he had four turnovers.
Box Score
| Final | 1 | 2 | T |
| --- | --- | --- | --- |
| Detroit | 22 | 23 | 45 |
| Marquette | 46 | 41 | 87 |
Detroit
Player
Pos
Min
FG-FGA
FT-FTA
3P-3PA
OR-TR
Ast
Blk
Stl
TO
PF
Pts
C Hayes
F
25
2-2
0-0
0-0
0-3
1
0
0
2
4
4
R Covile
C
33
6-16
3-3
0-0
4-12
1
3
1
2
4
15
M Abdur-Rahim
G
12
1-2
0-0
0-0
1-1
0
0
0
1
1
2
B Cotton
G
34
3-7
4-9
1-1
1-1
1
0
1
4
1
11
J Goode
G
21
1-2
1-2
1-2
1-2
1
0
0
3
1
4
B Bell
13
1-4
0-0
0-2
0-0
2
0
0
3
2
2
T Hartfield
1
0-0
0-0
0-0
0-0
0
0
0
0
0
0
Z Everingham
9
1-2
0-0
1-2
0-4
0
1
0
0
2
3
N Jokic
16
0-4
0-1
0-3
1-1
1
0
2
6
3
0
E Stephens
9
1-3
0-0
0-0
0-0
1
0
0
2
0
2
W Payne
11
0-1
0-0
0-0
1-1
0
0
0
4
1
0
J Sample
4
0-0
0-0
0-0
0-0
0
1
0
0
0
0
T Washington
12
1-1
0-1
0-0
1-1
0
0
1
0
1
2
Totals
200
17-44
(.386)
8-16
(.500)
3-10
(.300)
11-30
8
5
5
27
20
45
Marquette
Player
Pos
Min
FG-FGA
FT-FTA
3P-3PA
OR-TR
Ast
Blk
Stl
TO
PF
Pts
O Barro
F
30
2-3
4-4
0-0
1-6
1
3
1
1
3
8
J Lott
F
18
1-4
1-2
0-0
2-2
0
0
1
1
4
3
D James
G
29
8-15
2-4
2-5
0-2
5
0
4
0
1
20
J McNeal
G
27
3-8
0-1
1-3
0-2
7
2
3
3
3
7
W Matthews
G
24
6-9
0-0
3-4
2-8
1
0
1
0
1
15
D Fitzgerald
12
1-1
0-0
0-0
1-1
1
0
1
1
2
2
D Cubillan
20
3-5
2-2
2-3
0-0
2
0
0
2
2
10
D Burke
4
0-0
0-0
0-0
0-0
0
2
0
0
0
0
L Blackledge
14
3-4
0-0
0-0
1-2
0
1
2
1
1
6
L Hayward
17
5-8
2-2
2-4
1-3
0
0
4
1
1
14
M Kinsella
3
0-0
0-0
0-0
0-1
0
0
0
0
0
0
T Brice
1
0-1
0-0
0-0
0-0
0
0
0
1
1
0
C Kuphall
1
0-0
2-2
0-0
0-1
0
0
0
0
0
2
Totals
200
32-58
(.552)
13-17
(.765)
10-19
(.526)
9-30
17
8
17
13
19
87
Officials: Mike Stuart, Sean Hull, Jeff Nichols
Attendance: 12,339